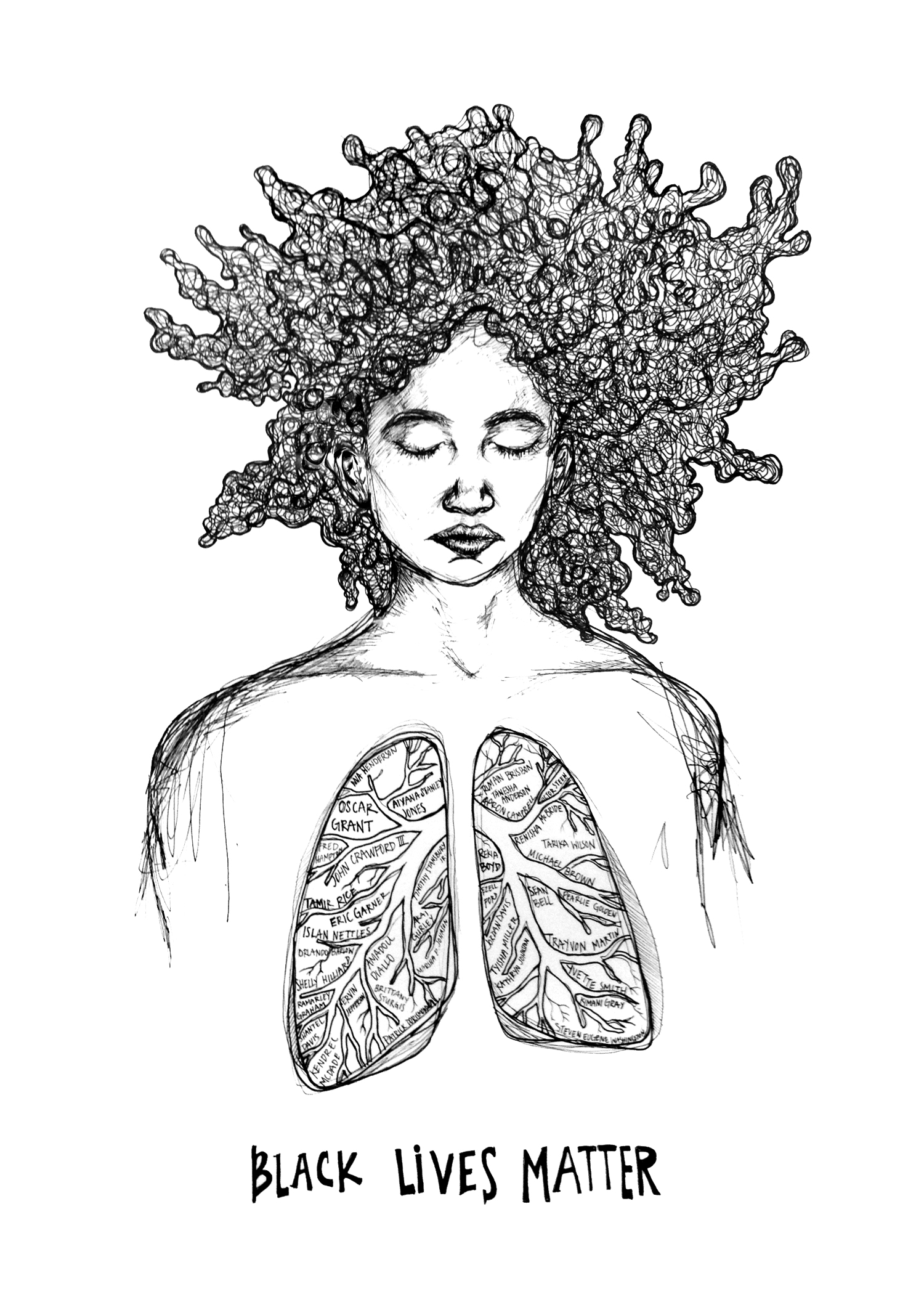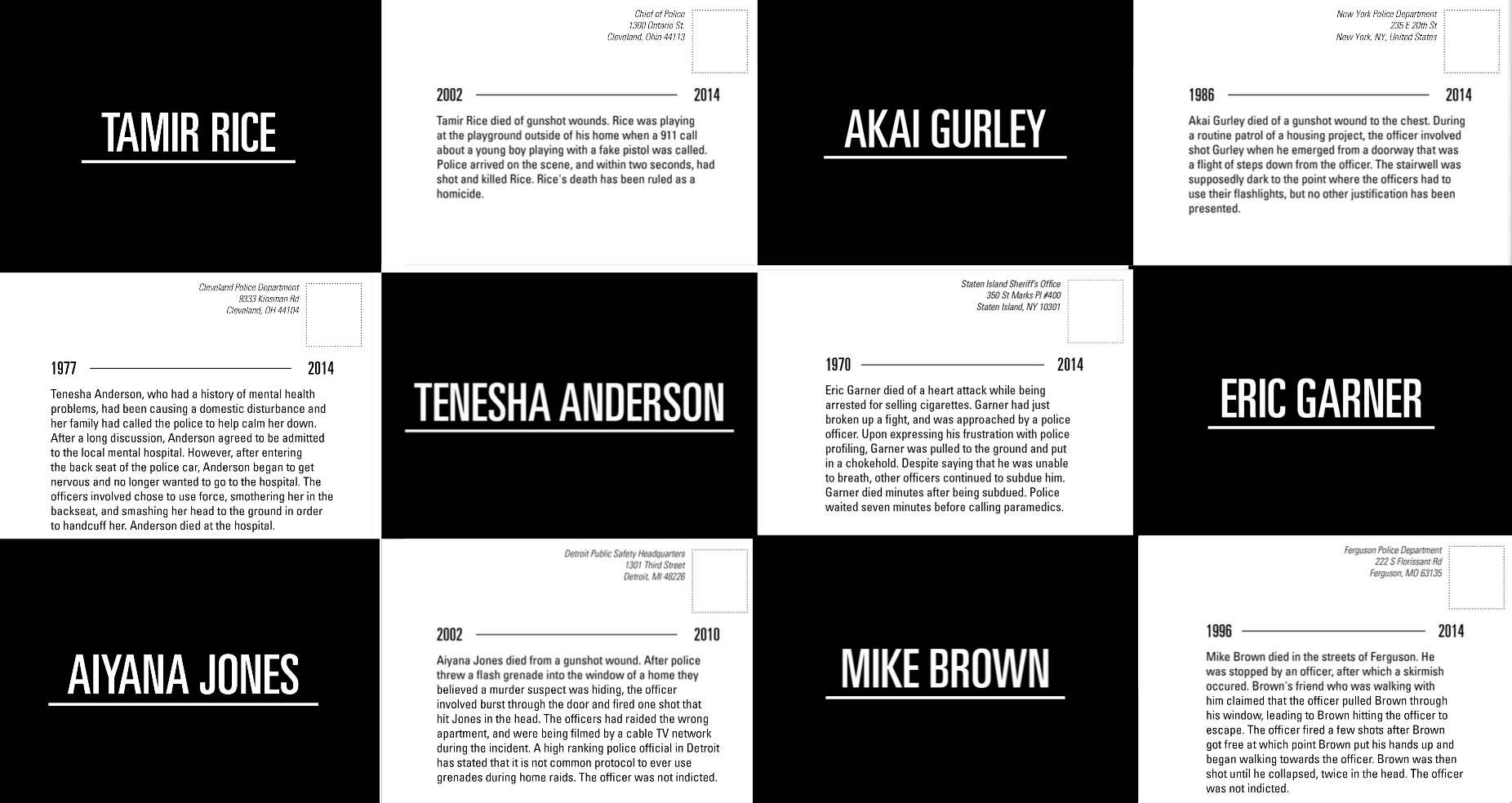 Invisible Women in the Civil Rights Movement: Fannie Lou Hamer
Zu
Fannie Lou Hamer (1917-1977) Fannie Lou Hamer was an American voting rights activist and civil rights leader. An organizer of the Mississippi Freedom Summer. Vice-Chair of the Mississippi Freedom Democratic Party. Read more...
New Age of Slavery
Patrick Campbell
"My Country Tis of thee, Sweet land of... liberty. But we wish to inform you that, tomorrow... we will be killed with our families!"
 
Can I Get A Witness?
Nafis White
"Can I Get A Witness grew out of my outrage and sorrow of seeing Michael Brown dead in the street on August 9th. He lived in Ferguson, MO where my Grandmother, aunt and cousin do. He was shot multiple times by a police officer, murdered in cold blood, disregarded and thrown out as trash, his body laying in the street for hours, an event that deeply and profoundly affected me. Read More...
The Faces Behind Black Lives Matter
Dolly Li (AJ+)
Alicia Garza, Patrisse Cullors and Opal Tometi co-founded the Black Lives Matters movement in 2012 after George Zimmerman was acquitted for the killing of Trayvon Martin. The founders see the movement as a call-to-action and response to anti-Black racism and the targeting of black people for demise. "It is an affirmation of Black folks' contributions to this society, our humanity, and our resilience in the face of deadly oppression.
Black Minds Matter
Desmond Hilson
This piece came about due to me thinking of the mental state of myself and other black people during these troubled times. I wanted to make sure there is adequate care being put into making sure the scars of the mind were being treated as they carry weight longer than our physical wounds.
Will The Machine Gunners Please Step Forward
Sonja John
This is a series was made in response to the non-indictment of Darren Wilson after the murder of Michael Brown. These prints conflates images of the 1960s Civil Rights Movement with images of police violence and protest in Ferguson, New York City, and beyond to expose racism and anti-Black violence in the United States. The title is excerpted from "A Poem Some People Will Have to Understand," by Amiri Baraka.
I AM
Jarrett Key
Two posters inspired I AM. The language and type echo the poster I AM A MAN used in the March in Memphis on March 28, 1968. The form reflects Glenn Ligon's oil and gesso on canvas "Study for BLACK LIKE ME."
I AM A MAN
Jetsonorama (Chip Thomas)
"...it's not a persecution complex if the pattern persists for over 400 years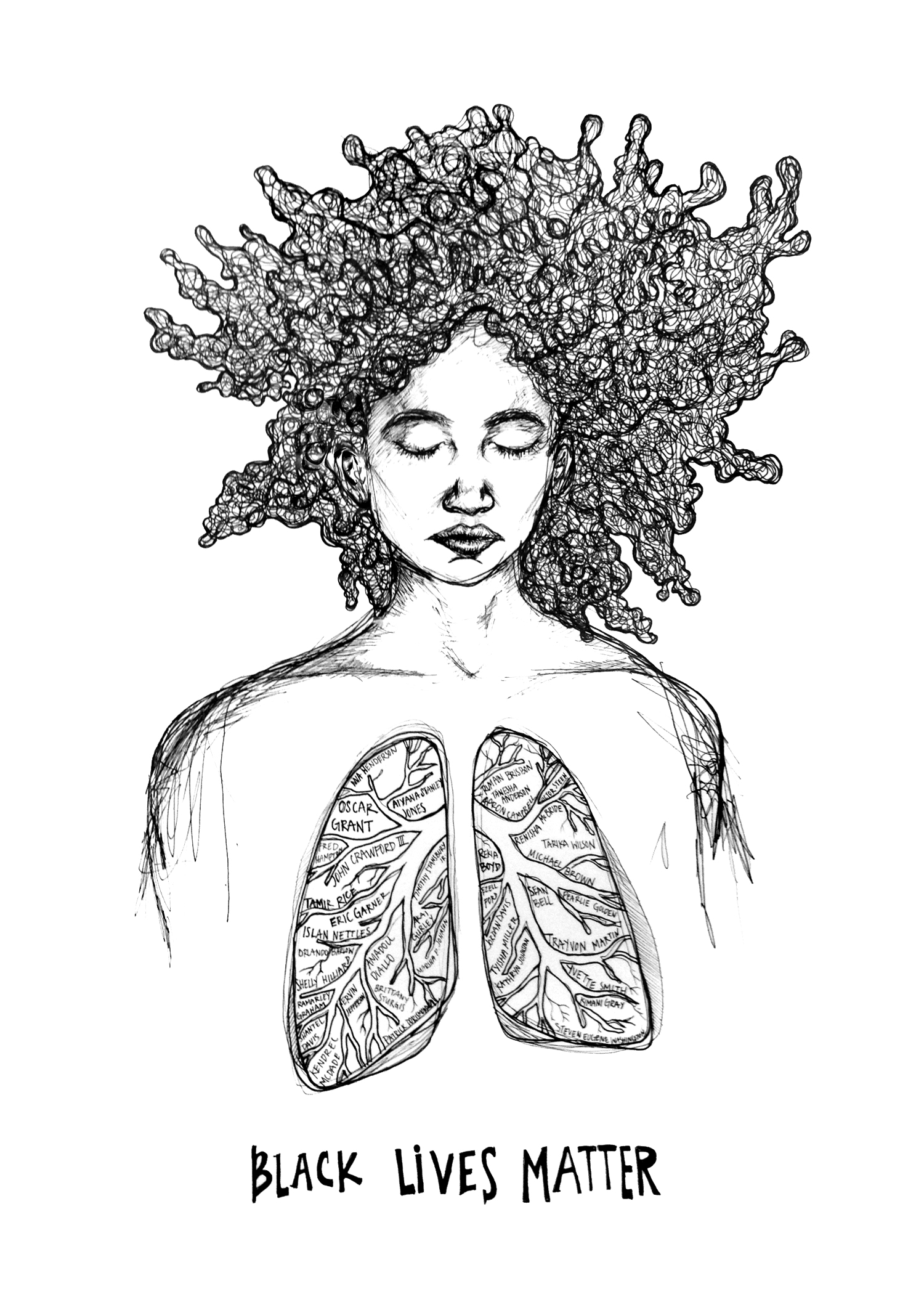 Black Lives Matter
Megan Spencer
"This piece is a meditation on the violence against Black bodies that has always been a part of the U.S. settler state. I was thinking about how we carry these stories in our bodies and wondering how we can find beauty in the world amid anti-Black racism, transphobia, misogyny, and the many forces which perpetuate violence against Black people, particularly Black children, queer and trans people, and women."
No Single-Issue Lives
Monica Trinidad
"Reproductive justice work must remember that challenging police violence is critical to Black women's right to give birth, and anti-police violence work must not lose sight of the ways in which Black women's' bodies are historically oppressed. With this piece, I hope to remix the way issues are cut; making it clear that intersectionality must be central in our fight for liberation."
Black Women Matter (Zine Edition)
Underground Sketchbook
"This zine is dedicated to black women. Read the stories of 11 black women who have been killed by law enforcement. Know their names. See their faces. Remember their stories."
Ex Tenebris Lux III
Linda Alila
This piece, "Ex Tenebris Lux," is the third piece in a series of the same name. The phrase is Latin for "out of darkness, light." This piece came out of personal darkness, but the timing of its creation coincided with the aftermaths of Eric Garner and Ferguson. Latin for "Out of Darkness, Light," Ex Tenebris Lux was created in the hope that meaningful change, in ways great and small, will emerge out of the grimmest circumstances.
Free CeCe & Support Trans Women of Color
Micah Bazant
I made this image to support CeCe McDonald and all trans women of color who are fighting for their lives. I made it on Transgender Day of Remembrance 2013, to reframe the event towards supporting the survival and leadership of trans feminine people of color.
Pay It No Mind
Micah Bazant
This image honors Marsha "Pay It No Mind" Johnson and expresses the dream of an anti-racist* and queer liberation movement.
"Invisible Women in the Civil Rights Movement: Ella Baker"
Zu
Ella Baker (1903-1986) Civil and human rights activist, behind-the-scenes grassroots organizer and mentor for over five decades. Challenged the gendered hierarchy of the civil rights movement. NAACP President, Godmother of the SNCC and organizer with the Mississippi Freedom Democratic Party and Southern Christian Leadership Conference.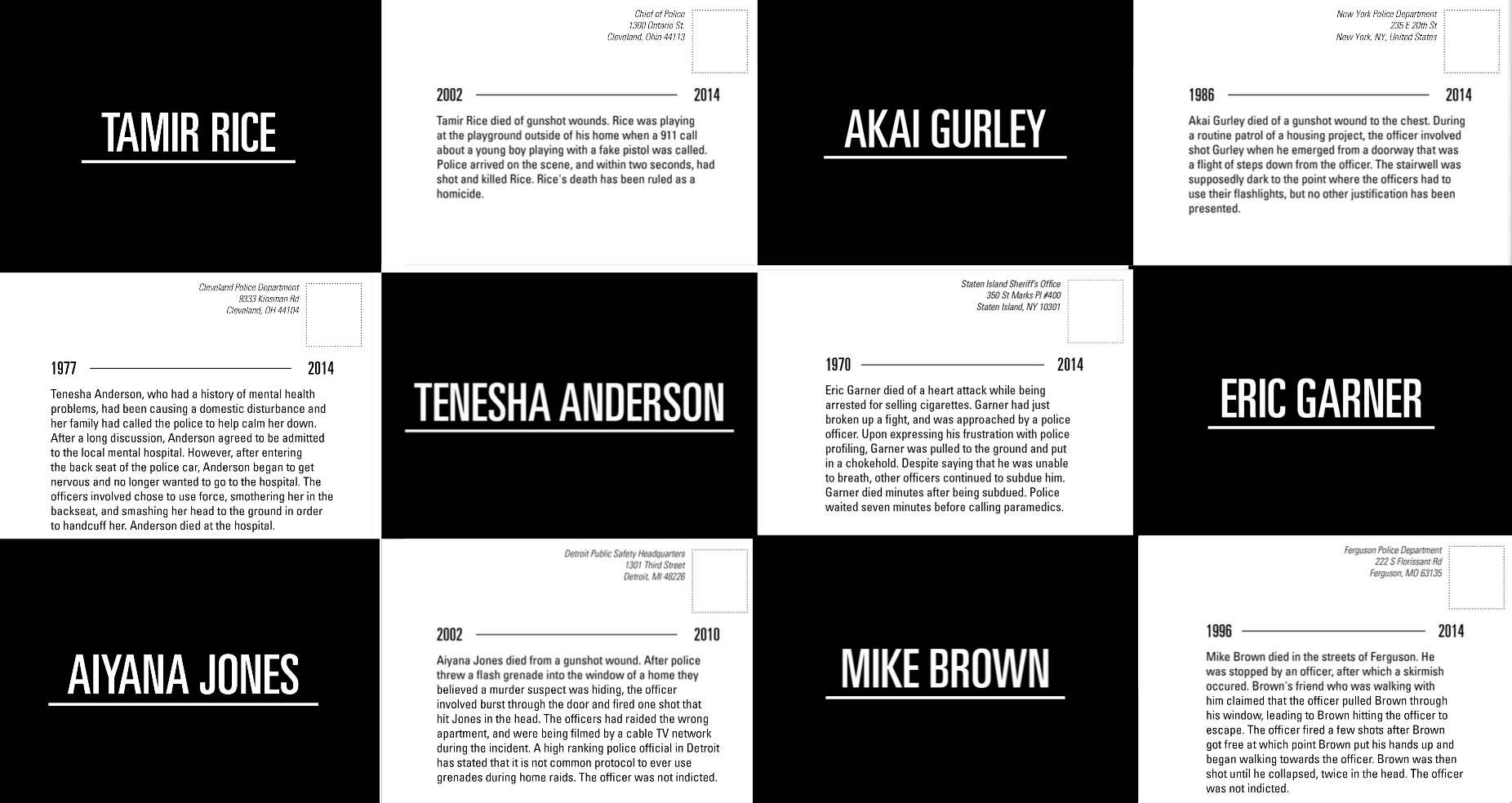 Trail of Silence
Anonymous
This is a memorial to those who were killed by a law enforcement officer while unarmed. Every name has a description of the events that occurred, as well as the address of the sheriff's office that was involved. Every image is a postcard, meant to be printed out and mailed to these locations. Visit: www.trailofsilence.com
We Won't Stop (BlackLivesMatter Tribute)
Inspired By Samuel L. Jackson
Performed By Taylor Simone
Video & Produced By Jett Phresh
Original song "I Can't Breathe" by The Peace Poets